---
Odstřelovací puška MB 06 SR-2 Well
16. 7. 2012
MB06 SR-2 Sniper Rifle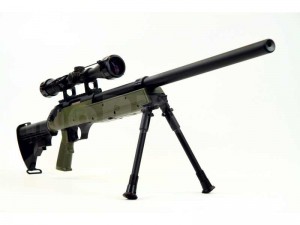 V dnešní uživatelské recenzi se podíváme na skoro novinku na trhu. Jedná se o kopii známé odstřelovací pušky MB 06 D. Zbraň je kupovaná z internetového kvalitního obchodu armymarket.cz, kde stojí pouhých 2340,-. Podle fotografií a popisu jsme na zbraň byly skutečně natěšení, vždyť podle popisu měla dosahovat 560 fps.
Nejprve se podíváme na informace, které uvádějí prodejci v různých prodejnách. Zbraň vyrábí firma Well a po koupení MB 01 jsme očekávali příjemnou kvalitu. Spoušťový mechanismus je kombinací polykarbonu a kovu, pojistka je z kovu a páka závěru taktéž kov. Váha odpovídá zhruba 3 kg a délka kolem 1050. Výrobci udávají úsťovou rychlost v rozmezí 500 – 560 fps.
Zbraň přijde ve složeném stavu, ono ani není moc co rozkládat. Snipa měla velmi příjemný vzhled a sklápěcí pažba vypadala opravdu skvěle. O to více nás vyděsilo, že pažba je celá plastová včetně trubice, po které jezdí. Barevně a tvarově byla, ale zbraň příjemným překvapení.

Zásobník je kompletně plastoví tlačák na 25 až 30 kuliček. Myslím, že u této zbraně by lépe seděl polokovový zásobník, ale i tento zatím funguje bez potíží. Později jsme dokoupily další dva zásobníky a jeden byl poměrně dost mastný, i to není vážná vada.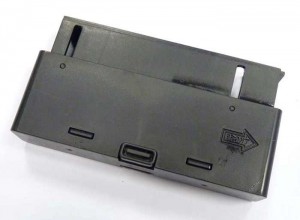 Pak začalo testování střelby. Po seřízení hop – upu kuličky létaly opravdu slušně, s přesností trefovaly lidskou postavu na 80 – 90 metrů (v bez větří). Natahování šlo ztuha, ale po chvíli střelby se rozjezdilo, avšak se zkrácenou pažbou to rozhodně nenatáhnete, stejně tak jako v leže. Zhruba po vystřelení 30 kuliček se povolila natahovací páka a v pístu začalo něco chrastit. Páku jsme dotáhly a chrastící šroub z pístu vytáhly, bohužel po dalších výstřelech se povolila pojistka, zasekla se a nehodlala spolupracovat. Další rozebrání bylo nutné, ale opět pomohlo. Preventivně jsme dotáhly všechny šroubky a vše důkladně promazaly. Od té chvíle nebyli se zbraní žádné problémy, tedy do povolení šroubku v pístu. Také jsme zjistily, že natahovací páka je poměrně měkkého kovu, když se do povrchu vyrývaly zvednutím páky hluboké drážky. Na bocích jsou také malé imbusové šroubky, které drží plastové střenky, to je dobrá informace do budoucna. Zbraň v tomto ohledu odpovídá ceně.
Páčka pojistky je přišroubována jedním malým šroubkem, který se s oblibou povoluje a k jeho dotažení musíte sundat pažbu a plasty. Jinak opět funguje na základním principu Fire/Save. Někdy jsme s pojistkou bojovali, protože šla velmi z tuha pře cvaknout. Další nepříjemností bylo občasné zavadění o pojistku natahovací pákou, docela to bolelo J.
Pažba, jak jsme zmínily, je kompletně plastová s kovovím poutkem na popruh. Druhé poutko na popruh se nenašlo, takže pouze jednobodový popruh, což si nedokážu představit u tak dlouhé zbraně. Pažba se vysouvá ve 4 polohách a možná by šla zaměnit i trubice za kovovou. Tuto výměnu máme v plánu a pak se s Vámi určitě podělíme o výsledek.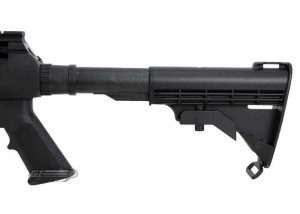 Do zbraně byl dokoupen kompletní set válce s pružinou 160 a nemůžu jinak, než doporučit. Vydávalo to poněkud skřípavé zvuky, ale po promazání a rozjezdění to jezdí jako po másle. Pružina jde snadno natáhnout a asi je to první kvalitní díl ve zbrani.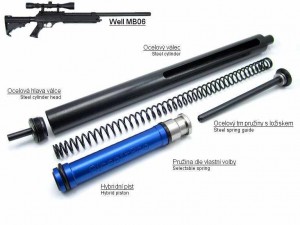 Jinak pocity z akce jsou pozitivní. Běhání s touto zbraní není vůbec těžké, zásobníky vyskakují čistě a dobře dotaženým hop – upem to korunujete na zabijáka. Do zbraně ještě hodláme dokoupit natahovací páku pro M24 i s koncovým dílem a budeme se modlit, aby pasoval (z recenzí by měl), novou hop – up komoru (pro dobrý pocit) a kvalitní přesnou hlaveň. Dokonce i zvažujeme možnost vyměnit plastové střenky za ručně vyrobené dřevěné. Jediným kamenem úrazu je opět rychloplnička. Sice Vám přijde taková pofidérní rychloplnička, ale doporučujeme určitě dokoupit i s nástavcem. Za ty peníze není co řešit.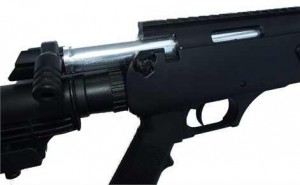 Tak to je asi o této zbrani vše, pokud byste měli zájem doplnit nějaké informace, určitě budeme rádi. Fotografie pochází z internetových obchodů, protože naše zbraň je již překopaná. Dále připojujeme internetovou stránku s exklusivní recenzí a fotografiemi.
Toto je pouze recenze z prvních dojmů a užívání. Doufáme, že jste se dobře bavily a našli třeba i odpověď.
Komentáře
Přehled komentářů
---
---